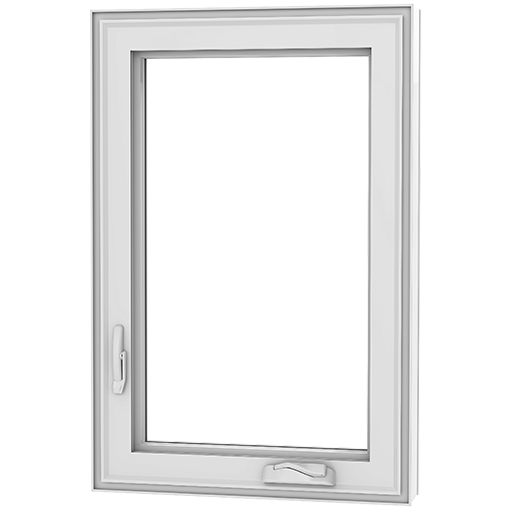 Canadian Home Casement windows are a versatile option that provides timeless elegance to both modern and classic homes. They are designed to work seamlessly with your home and allow you to enjoy an unobstructed view of the outside.
Canadian Home Casement windows are hinged on one side & open outwards.  They can open and close easily with a turn of a foldable crank handle. A multipoint level allows the handle to lock in place creating a sleek look and finish to your window.
For areas of your home that require minimal to full ventilation, casement windows are built with a one sided hinge and can open towards the left or right side.
Frame
Glass
Hardware
Specs
Configurations
Frame
Strong, Durable and Maintenance Free uPVC Vinyl Construction
Warranted for a lifetime of performance.
Vinyl is impervious to the elements and never requires painting
Multichambered, Fusion Welded Frame and Sash
Excellent for thermal resistance and prevention of heat loss. Canadian Home windows are extruded in 3 1/4 and 4 5/8 frame depths for extra strength and rigidity and to accommodate wide variety of applications.
 Metal Reinforced – Built to Last
The window structure is metal reinforced at the areas where lock keepers, operators and latches are fastened to the frame.
Computer Controlled Precision Miter Cutting
Frame and Sash are welded simultaneously for a perfect fit.
Foam "warmware"
Offered as an option, polyurethane foam insulation is injected into the frame and sash of each window.
Glass
Hardware
Specs
Configurations