CHESTNUT BROWN

COMMERCIAL BROWN

MAIZE
PEARL GREY

PEBBLE

SABLE

SANDALWOOD

WEDGEWOOD BLUE

ALMOND

ANTIQUE IVORY

BLACK

BROWNSTONE

CANYON CLAY

CASHMERE

CREAM

DARK DRIFT

DOVER GREY

FOREST GREEN

HARVEST WHEAT

IVY GREEN

LAMBETH BEIGE

MIDNIGHT SURF

MIST BLUE

MOONLIT MOSS

NUTMEG
PEARL

SADDLE BROWN

SAGE

SANDSTONE

SLATE

STORM

VENETIAN RED

WICKER

WINDSWEPT SMOKE

COPPERTONE METALLIC

WHITE

BLACK

MATTE BLACK

TUSCAN BRONZE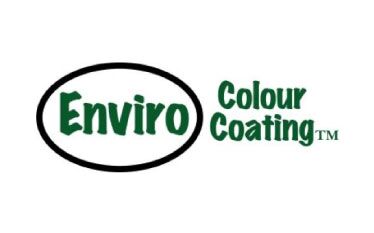 New Exterior Coatings for Vinyl Windows combine better performance with environmental responsibility.
Enviro Colour Coatings come with our exclusive "Exterior Colour ten year warranty" which includes undue fade!
WHAT IS SO SPECIAL ABOUT THIS COATING?
Enviro Colour Coating™ offers superior long-term film integrity, colour and gloss retention for vinyl extrusions or other types of vinyl cladding. Enviro Colour Coating™ will give you the confidence of knowing that the finish on your vinyl unit is the best available.
Enviro Colour Coating™ is a proprietary single component and water based coating. It cures to form a protective film that provides a unique combination of toughness, flexibility and durability, resisting the harmful effects of ultraviolet light, pollutants, abrasive agents and acid rain. Enviro Colour Coating™ contains no harmful chemicals that hurt the environment. It is water based and contains no solvents. Because of its easy to handle qualities, it is a field applicable product.
WHY IS ENVIRO COLOR COATING™ IMPORTANT?
Vinyl is a thermoplastic resin that is heat sensitive at temperatures greater than 140 F. Above this temperature the vinyl will start to soften and serious warping of an extrusion can occur. This is the primary reason that most vinyl windows are pastel colours since dark colours can result in excessive heat build up in the component.
Selected pigments with heat reflective properties have been used to formulate Enviro Color Coating™. This reduces heat build-up and maintains a low component material temperature that avoids warping. The ability to reduce temperature build-up for dark colours allows manufacturers of vinyl windows to offer a much wider range of colours than could be previously offered.